Ideal for those with larger body shapes, the Comet® Ultra offers a secure, supportive and powerful driving experience without compromising on style or functionality. Packed with all of the safety features and driving characteristics seen throughout the Comet family, the Comet Ultra will get you to your destination quickly and efficiently, in complete comfort and control.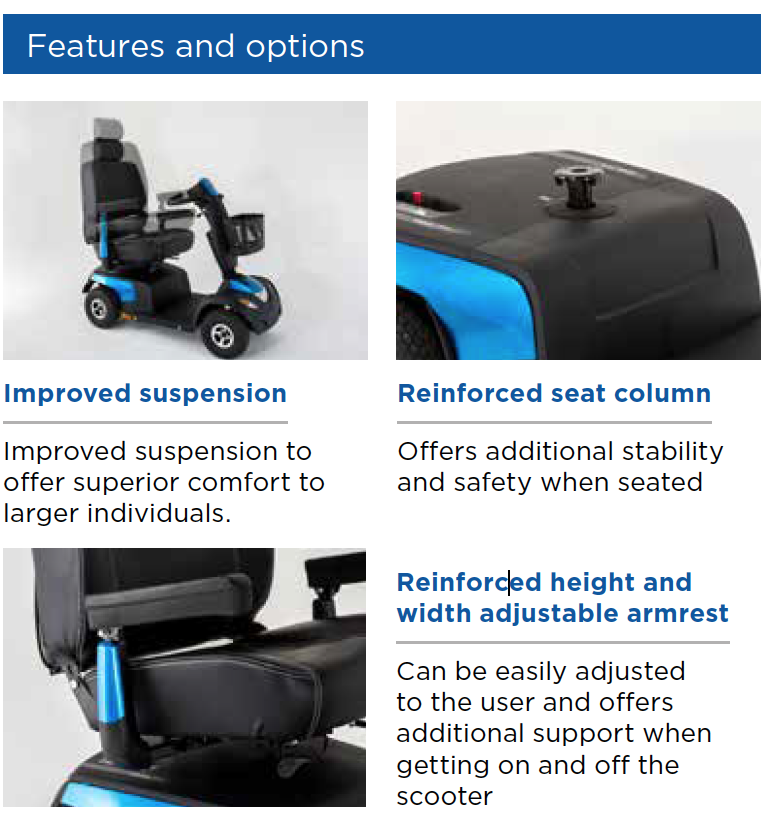 Power, reliability and customisation due to a carefully thought out design process and a robust construction, the safety and stability of the Comet Ultra is never a concern even for users weighing up to 220kg. Developed with the highest quality components and safety features, the Comet Ultra makes a trustworthy companion no matter where you go. Furthermore, its flexibility and adaptability means you can customise your scooter to suit your unique style and individual preference. Complete comfort and support.
 The special contoured Ultra Seat has been developed in conjunction with therapists to ensure an optimum seating position and increased comfort. In addition, a pneumatically adjustable lumbar support allows for further comfort when seated if and when required. The reinforced seat base and adjustable armrests offer excellent support and allows the use of the armrest as additional support when getting on and off the scooter.
Click here to download the Invacare Comet Ultra Brochure
3 Months Free Insurance Available
Optional 3 months free insurance and breakdown* cover available subject to terms and conditions.
IMPORTANT
Due to delivery and warranty constraints, This product is only available for delivery in the Kent area. The item includes engineered deliver and you will be provided with training on how to use the product. The warranty is provided on-site in the Kent area. 
WARRANTY
24 months parts warranty, 12 months parts and labour warranty.
*Breakdown does not include cover for flat tyres or flat batteries.
** The range of a mobility scooter varies depending on the weight of the user, the operating temperature and the terrain.