Price match available. Where possible, we will price match any offer you've received on this product. See details at the bottom of this page or message us on WhatsApp here
See the world - and be seen - with ATTO. The smartest high-performance mobility scooter on the market.
Movinglife UK ATTO Folding Mobility Scooter. New 2022 model which has a upgraded LCD screen.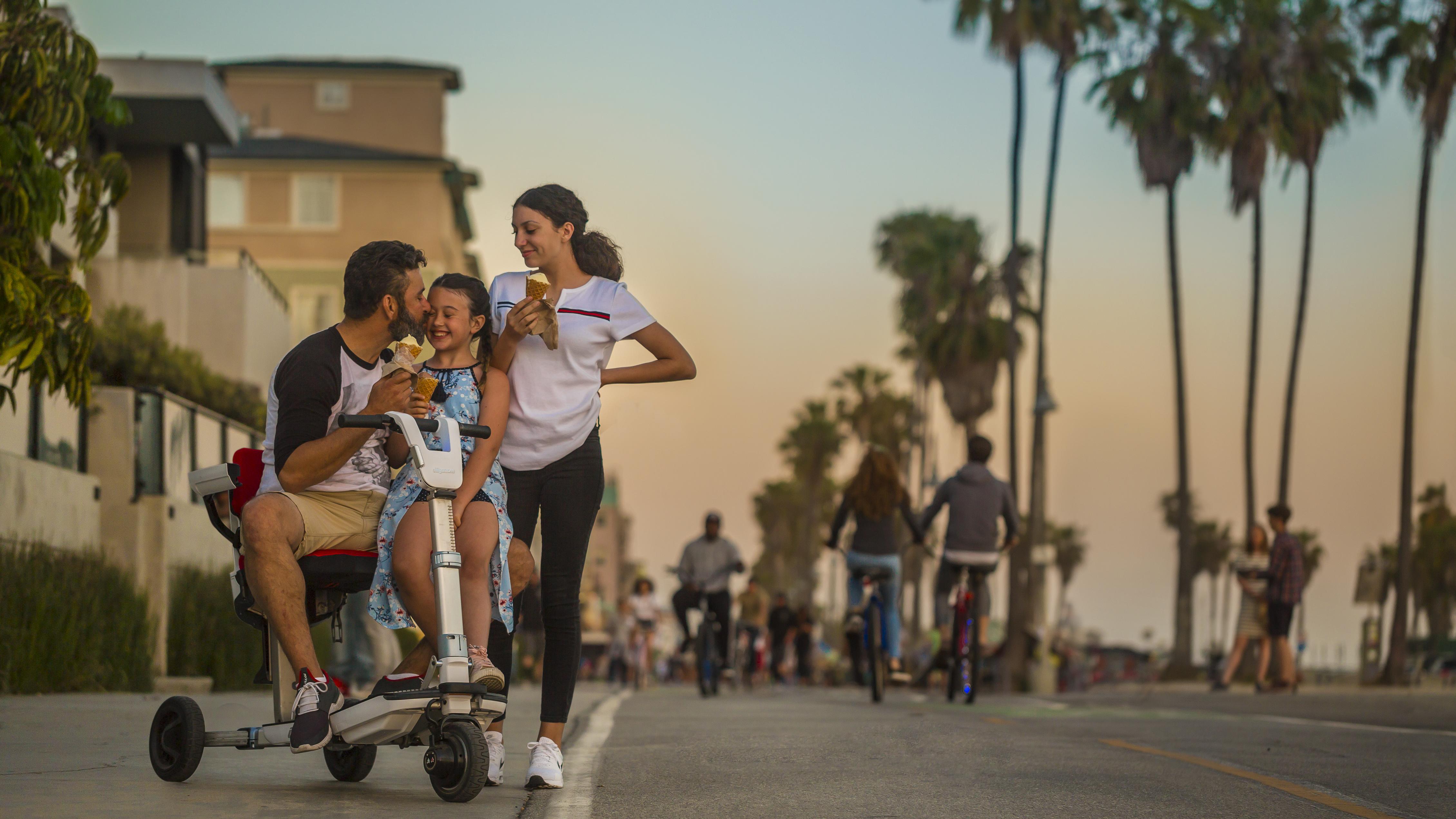 Whether you're going on a cruise or browsing the shops, Atto is the ultimate travel accessory . ATTO's beauty is in the details, with standard features like a built-in USB charging port, deck storage and adjustable seat heights. It can also be customized with various accessories. A head-turning piece of equipment for those who literally would not ride in anything else, ATTO is the mobility scooter that refuses to look like one.
While the compact folded unit splits in two for easier transport, ATTO comes together to form a robust full-sized vehicle with the best balance and use of space.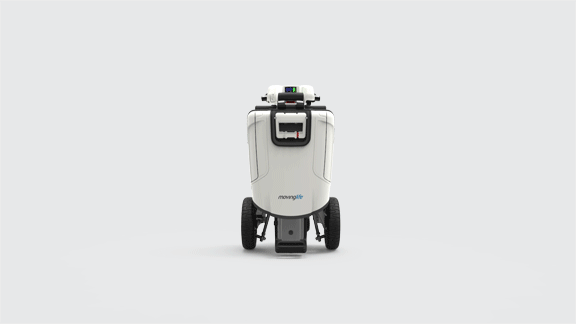 Product Specifications
Dimensions:
Trolley Mode. H 28" (71cm) L 15.3" (39cm) W 16.5" (42cm)
Riding Mode H 35" (89cm) L47" (120cm) W 22" (56cm)
Weight: (The Atto can be split into two pieces to make lifting lighter)
Front half 26.4 lbs (12 Kg)
Rear half 35.7 lbs (16 Kg)
Assembled Weight 62.2 lbs (28.2 Kg)  without battery
Battery Weight 4.1 lbs (1.85 Kg)
Weight Capacity
Maximum user weight 120 Kg
Battery
48 Volt Lithium-ion. Up to 10 Miles per charge*
Can be charged on or off the scooter
Speed
4mph
What's in the box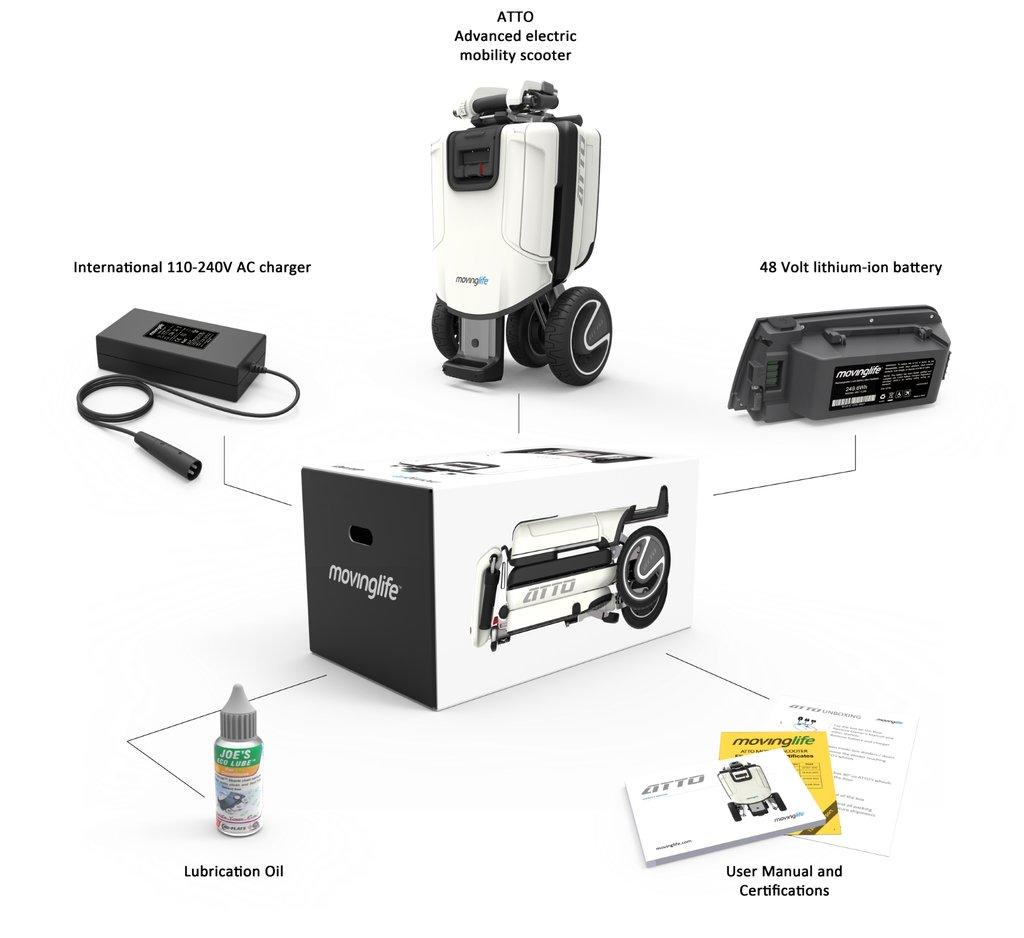 Atto Advanced electric mobility scooter
48 Volt lithium-ion battery
AC charger
User manual
Certifications
Lubricant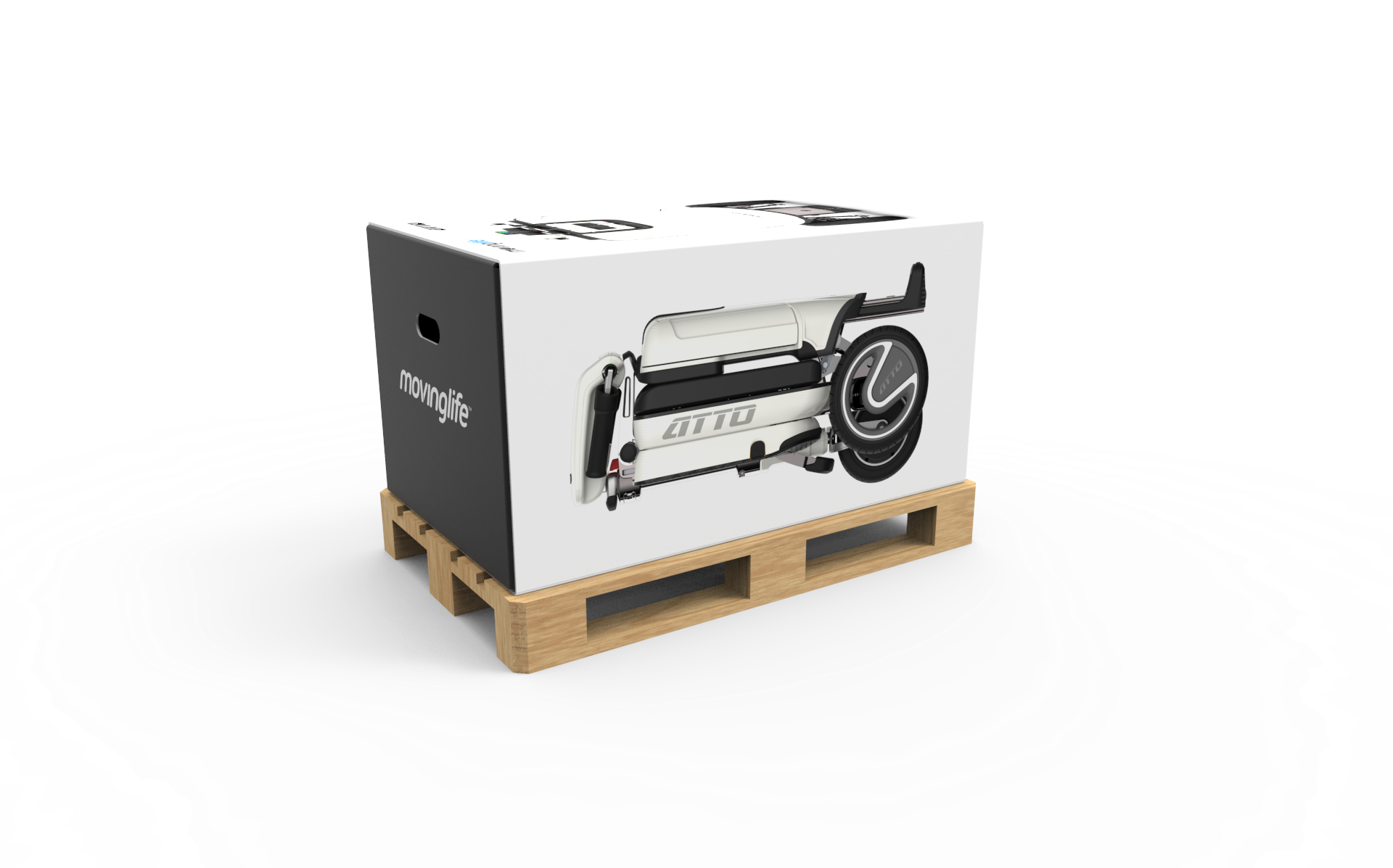 Specifications: 
| | |
| --- | --- |
|  Range (Up to) | 12 Miles |
| Dismantles | Y (Two parts) |
| Type | Folding |
| Heaviest Part to lift | 16kg |
| Total Weight | 30kg |
| Max. User Weight | 15.7St (100kg) |
| Suspension | N |
| Tyres | Solid |
| Length (Opened) | 120cm |
| Width (Opened) | 56cm |
| Ground Clearance (Opened) | 10cm |
| Compacted Dimensions | 39(L) x 42(W) x 72(H) |
| Motor Size | 48V |
| Warranty | 24 Months or 6 Months on pre-owned. |
We also have used reconditioned models available with 6 months warranty and ex demo units with a full 24 month warranty.
If you're in Kent, we can come and demonstrate the scooter to you. No obligation & no hard sales tactics. That's a promise!
Click here to download a digital brochure.
Optional insurance available.
Free boxed delivery to your door and optional engineered delivery is available.
Warranty is a return to base warranty, unless additional on-site warranty is purchased.
Price excludes VAT. You will not need to pay VAT if you are a UK resident and suffer from a long term condition or have a disability. Details of this will be required before dispatch and we will be in contact with you to obtain this information.
**Price Match** We are confident that we can match most offers on this product so please give us a call if you find a better deal. Note. Our offer includes a full 24 month warranty so when price matching this may fall away to match the offer you have received.