Instore Demo Available.
The Lithilite travel scooters are among the first to house lithium-ion batteries, offering increased durability, better performance and super-quick charging times. Lithium-ion batteries are better equipped to stand up to day-to-day use and are much smaller and lighter too. Frequent travellers won't need to worry about replacing the batteries too soon, and the light weight 4 kg battery pack make sure its incredibly easy to remove and charge off board. There is also an even lighter 2.75kg Air Safe battery pack. At 11ah the air safe pack is within the Civil Aviation Authority's new regulations and can be taken on a plane so you can also take your Lithilite on holiday with you.
Housing that impressive technology is a lightweight, dismantlable frame that makes transportation easy. The heaviest section weighs around the same as a packed suitcase (just 15kg), so it's made for lifting into your car boot. You'll have the Lithilite stripped down to its 5 parts in no time, ready to be reassembled just as quickly at your destination. This design is ideal for out-the-way storage too. Despite being designed to be as small and portable as possible the Lithilite boasts an impressive amount of leg space, a height adjustable seat with adjustable armrests to help make your journey as comfortable as possible.
 To enhance your comfort even more the front and rear suspension helps ensure longer journeys (remember that impressive range) over rough and uneven terrain are smooth and protected from vibrations travelling through the frame.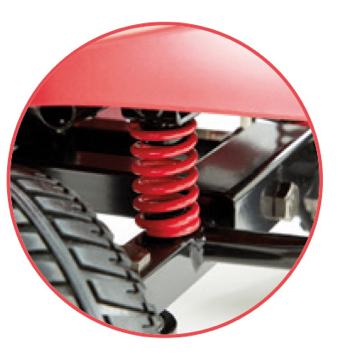 We have a demo available for a test drive.
Specifications: 
Max user weight capacity 18st / 115kg
Heaviest part when disassembled 15kg
Speed (maximum) 4 Mph / 6kph
Max travel range – 12Miles (Upradable to 27Miles)
Max climbing angle 10°
Suspension Front & Rear
3 Months Free Insurance Available
Optional 3 months free insurance and breakdown* cover available subject to terms and conditions.
IMPORTANT
Due to delivery and warranty constraints, This product is only available for delivery in the Kent area. The item includes engineered deliver and you will be provided with training on how to use the product. The warranty is a return to base warranty, so please ensure you would be able to return the item to us in the event of a warranty claim.
DELIVERY TIME
This is an engineered delivery product. This means we will deliver the product to you and demonstrate how to use it. Please allow 5 days for delivery.
*Breakdown does not include cover for flat tyres or flat batteries.
** The range of a mobility scooter varies depending on the weight of the user, the operating temperature and the terrain.