Whatever your journey involves, whether climbing hills or cruising the flat, you can be assured of going places quickly and safely with the powerful and speedy Phantom. The extra heavy duty motor allows you to climb the most challenging inclines with ease and speed.
The advanced engineering within the front and rear suspension, complete with the fully adjustable luxury Captain seat delivers a splendidly comfortable and delightful ride. The large floor area allows even the tallest user to enjoy plenty of space and legroom.
With its sleek, modern design and shrouding the Phantom allows you to travel in style while the large twelve inch front and rear wheels offer fantastic ground clearance with increased driving control over uneven surfaces.
Other benefits include the weightless gas-assisted tiller adjustment, easy to use tiller controls, high visibility rear view mirrors and the powerful front and rear LED lights which allow you to travel day and night.
Enjoy your Phantom – Enjoy your Freedom!
Key Features:
Sleek and stylish design featuring fantastic leg room
Heavy duty motor allows you to climb the most challenging inclines with ease
Large wheels offer excellent ground clearance and increase driving control 
User weight capacity of up to 28.5 stone 
Available in two colours, Capri Blue and Graphite Grey.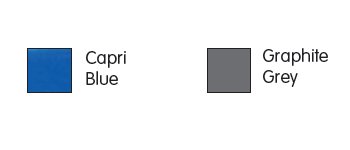 3 Months Free Insurance Available
Optional 3 months free insurance and breakdown* cover available subject to terms and conditions.
IMPORTANT The item includes engineered delivery in the delivery charge and you will be provided with training on how to use the product.
See delivery tab for more information.
*Breakdown does not include cover for flat tyres or flat batteries.
** The range of a mobility scooter varies depending on the weight of the user, the operating temperature and the terrain.
Max user weight capacity 28.5st / 181 kg
Speed (maximum) 8 mph
Max Travel Range 40 km / 25 miles*
Max climbing angle 9°
Min. tuning radius 1655mm / 65''
Overall length 1300mm / 51''
Overall width 640mm / 25''
Seat height Adjustable height
Seat type Luxury Captain
Front tyre size 300mm / 12''
Rear tyre size 300mm / 12''
Max ground clearance 140mm / 5.5''
Battery 2 x 50AH 12V
Charger 5 amp off-board
Lights LED front and rear
Suspension
Full front and rear
Manston Mobility Warranty is a comprehensive warranty. Many online retailers only offer a manufacturers warranty which does not cover the cost of call-outs or labour in the event of a warranty claim. Before you buy from someone else, ask about warranty call-outs. Some retailers charge upward of £125 per incident. 
Our warranty includes up to 3 warranty call-outs for the 12 month warranty period, giving you complete peace of mind when purchasing this product.
At checkout, you can choose standard delivery or engineered delivery. If you chose standard delivery, the item will be delivered to your front door only. You will be responsible for the unboxing, assembly and removal of packaging. Delivery is normally 5-7 working days.
If you opt for engineered delivery, the item will be unboxed, assembled and you will be provided with training on how to use the product. Boxes and packaging will also be removed.
Please allow 10 - 12 days for delivery for engineered delivery.
Delivery is to mainland UK only. If you're in the postcodes IV or KW, there is an additional charge. Please contact us for more information.