Secure handling but with a portable base, take your next adventure with the Sapphire 2 mobility scooter.
Designed to give exceptional manoeuvrability both indoors and out, the Sapphire 2 is a 4mph portable mobility scooter that separates into 4 easy to manage parts. Dual handles fitted to the batteries and rear drive unit make lifting and handling your mobility scooter safer and more manageable, whilst powerful LED lights on the front and rear ensure you're always seen on your travels. The ergonomic floor panel design also provides maximum legroom compared to other mobility scooters in its class. The maximum range is up to 19 miles.
Disassembling your Sapphire 2 mobility scooter is easy…
Designed for simple disassembly without the hassle of cables or plugs, the one-touch Sterling lock separates both halves of the mobility scooter for easy portability and stowage. Simply lift off the seat, lift out the batteries, and lift the rear STERLING lock handle to separate the front and rear of the mobility scooter. It really is that simple! By the way, it goes back together just as smoothly!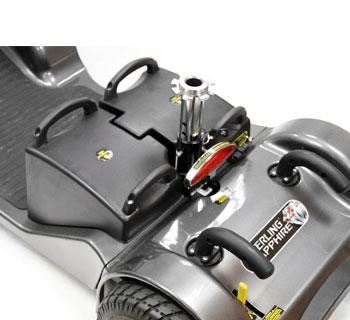 .. and provides a portable mobility scooter solution.
One of the lightest mobility scooters in its class, the Sapphire 2 can be easily loaded into your vehicle once disassembled. Lifting and handling the batteries and rear drive unit is safe and comfortable with the fitted STERLING lift dual handles. Plus, the tiller can be safely folded down and basket secured into place under the tiller to provide a tight, portable mobility scooter package.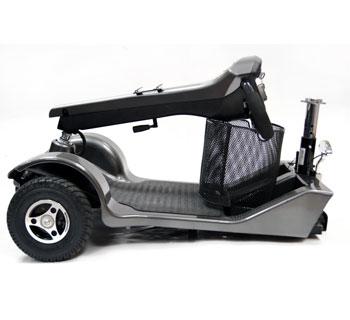 Delta handle bar
The ergonomically designed delta handle bar allows you to rest your wrists whilst in operation of your mobility scooter.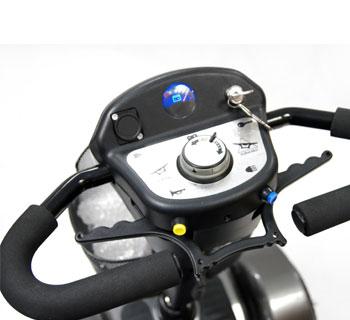 Extended range
With its large batteries, the Sapphire 2 mobility scooter can take you up to a distance of 19 miles (30km).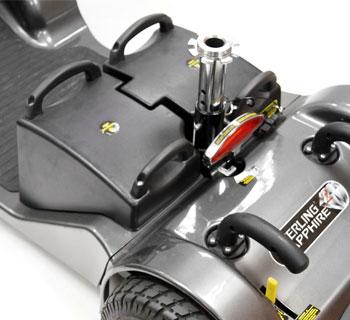 Always be seen on your Sapphire 2 mobility scooter with LED lights
Super bright, low energy and long life LED lights ensures you're always seen and the road ahead for your mobility scooter is always well lit.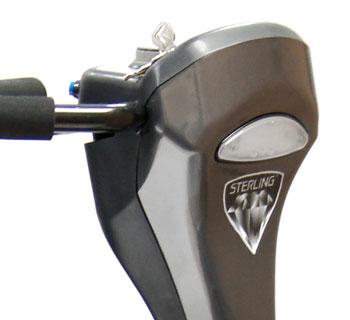 This scooter is available for online purchase only and cannot be viewed or purchased in-store.
| | |
| --- | --- |
| Front Wheel Size: | 225mm (22,5cm) |
| Rear Wheel Size: | 265mm (26,5cm) |
| Overall Length: | 1210mm (121cm) |
| Overall Width: | 590mm (59cm) |
| Seat Base Height: | 500mm - 620mm (50cm - 62cm) |
| Version: | 4 wheels |
| Speed: | 6,4kph |
| Batteries: | 35Ah |
| Maximum Safe Slope: | 10º |
| Turning Diameter: | 1400mm (140cm) |
| Light And Indicators: | lights only |
| Range (Low to High): | 30km |
| Total Weight: | 79kg |
| Heaviest Part: | 22,5kg |
| Max. User Weight: | 150kg (23.7 stone) |
| Colours: | Carbon Metallic |
Manston Mobility Warranty is a comprehensive warranty. Many online retailers only offer a manufacturers warranty which does not cover the cost of call-outs or labour in the event of a warranty claim. Before you buy from someone else, ask about warranty call-outs. Some retailers charge upward of £125 per incident. 
Our warranty includes up to 3 warranty call-outs for the 12 month warranty period when, giving you complete peace of mind when purchasing this product. 
At checkout, you can choose standard delivery or engineered delivery. If you chose standard delivery, the item will be delivered to your front door only. You will be responsible for the unboxing, assembly and removal of packaging. Delivery is normally 3-5 working days.
If you opt for engineered delivery, the item will be unboxed, assembled and you will be provided with training on how to use the product. Boxes and packaging will also be removed.
Please allow 7 - 10 days for delivery for engineered delivery.
Delivery is to mainland UK only. If you're in the postcodes IV or KW, there is an additional charge. Please contact us for more information.