Power and performance in a premium package. Whether you're popping to the local shops, taking longer trips into town, or looking to go further afield, the all new Comet Pro will take you the distance in comfort, safety and style. With it's exceptional driving features and modern aesthetics, the Comet Pro offerspower and performance in a premium mobility scooter package.
Premium performance and control
Thanks to its enhanced driving features and 2 x 75 Ah batteries, theComet Pro allows you to enjoy longer and more challenging journeys beyond the city's limits. Its large 13" front and rear wheels, combined with the all new suspension system, allows the safe negotiation of kerbs and obstacles in a smooth and comfortable manner. Additionally, the automatic speed reduction will slow you down when driving around corners at high speed for additional stability and safety.
TÜV tested
The Comet Pro has been subject
to independent German TÜV laboratory testing, giving you ultimate con dence and reassurance when driving. Advanced safety features, such as a two step disengaging lever and automatic speed reduction, o ers additional peace of mind wherever you go.
Compact and modern design
Designed with both comfort and precision in mind, the Comet Pro
o ers exceptional manoeuvrability and control, even through tight and challenging spaces. Additionally, the new ergonomic steering ensures an optimal driving position, allowing for a more enjoyable and relaxing journey.
Easy drive direction stability
Keeps you in a straight line at high speeds for additional safety and stability.
Auto-speed reduction
Automatic speed reduction reduces speed around bends for additional safety.
Key Data:
Range** 34 Miles
User Weight: 25St (160kg)  - Comet Ultra supports users up to 34.5St (220kg)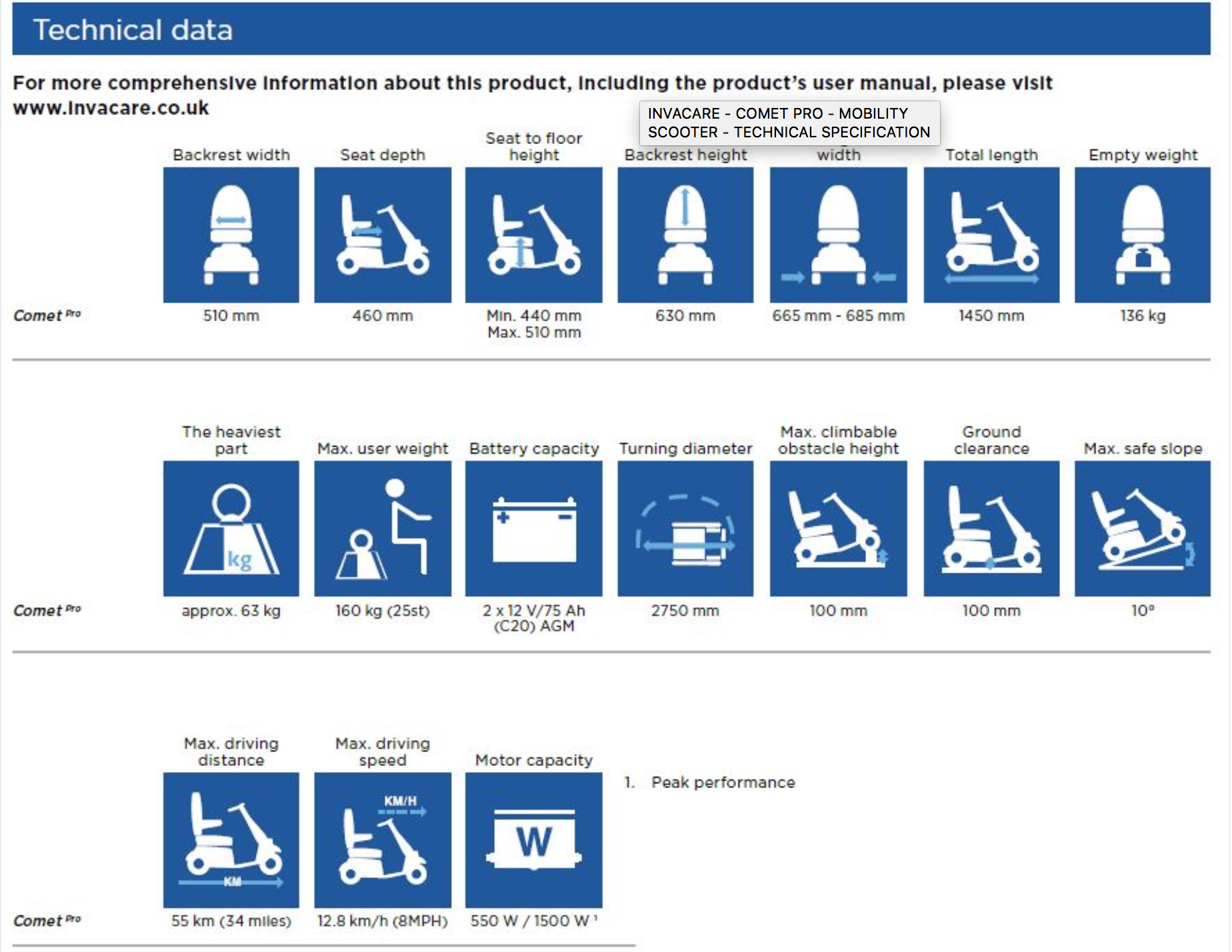 Download Brochure - Click here to download the Comet Ultra Brochure
Download Accessories
The images displaying to scooter colours show accessories that are not included in the price. For a full list of available accessories and prices, please get in touch.
Click here to try Invacare scooter configurator and see all the various options and colours
This Invacare will come with a 12 Month warranty on both the machine and the batteries. New 75Ah batteries have been fitted.